ETERNAL NETWORK ETERNAL NETWORK ETERNAL NETWORK  ETERNAL NETWORK

ETERNAL NETWORK ETERNAL NETWORK ETERNAL NETWORK ETERNAL NETWORK

Anniversaire de l'Art

En 1963, il nous invitait à une célébration de l'Anniversaire de l'Art tous les 17 Janvier
            « l'art est ce qui rend la vie plus intéressante que l'art «


17 janvier 2000 à 19 h

interv: 

 ESTHER FERRER , CHARLES DREYFUS ,
 DANIEL DALIGAND, MAX HORDE , RICHARD MARTEL ,
 BRUNO MENDONÇA , DR COURBE ....
performance de Bruno Mendonça /dessin Artur Piegza/
---
l'anniversaire de l'art et l'eternal network n'étaient qu'une astuce de
filliou pour qu'on parle de lui, et qu'on n'oublie pas son propre
anniversaire.
moi, j'en fus jaloux. ceci dit, c'est de bonne guerre.
tant mieux pour lui,
ben
---
anniversaire ?
de l'art??
je n'ai rien vu dans le mail
??
Martel vient chez vous il paraît ?

Je ne sais pas encore ce que je vais faire, mais la fête j'ai bien envie
bien sûr...
Joachim Montessuis
---
@mitiés
Daniel Daligand
---
Pour l'Anniversaire de l'Art, Viva.
De l'Utomobile Club,ici, rien, tout, presque rien, presque tout, enfin,oui, non, si.
Pour Wizya,
Amitié Michel et Valentine.
---
Dearest friends

2323 GMT is approaching and I will soon be making my
psychotronic action at "The Telepathy Tree", here in Dartington.

I have now received collaborative empathy from local artists Gregg
Whelan and Garry Winters (aka lonetwin):

>Date: Fri, 14 Jan 2005 00:39:02 +0000
>Subject: Re: action for the anniversary of art
>From: "Gregg Whelan" <g.whelan@dartington.ac.uk>
>To: Roddy Hunter <r.hunter@dartington.ac.uk>
>Mime-version: 1.0
>X-Priority: 3
>
>hello Roddy
>
>Thinking that if 23:23 hours is today, rather than yesterday, you might want
>to think about borrowing one of our walkie talkies as research has shown us
>that it is not uncommon for short wave radio signal to be randomly bounced
>off the F region of the ionosphere (a layer of solar charged particles
>between 90 and 190 above the Earth) and travel for thousands, even millions
>of miles. With your action happening at night the F region is at its
>greatest level of accessibility (with other layers thinning) making the
>potential for this global broadcast greater.
>
>Happy anniversary
>
>lone twiners xxx

I will commit my act with the 'walkie-talkie' (radio) open and
broadcasting the ambience of the milieu for the 23 minutes or
460 breaths. lonetwin, in turn, will be wearing coathangers in a
local bar for the duration of the event.

Prepare........

Love


Roddy
xxxxx

IA: Inter-regional Annex (IA) AI: L'annexe interrégionale (AI)
Roddy Hunter Julie Bacon
6 Walnut Close 777 Rue des Hospitaliéres, #66,
Totnes TQ9 5GF Chicoutimi G7H 7J3
England. Québec.

t: +44 (0)1803 868875 + 1 418 543 7362
e: r.hunter@dartington.ac.uk jbacon@uqac.uquebec.ca
Roddy Hunter
---
je te reçois
on part pour les quilles dans un instant
je relève les courriels après
à notre apéro
(et non la perreault!)
bises à tous
et à tantôt
gardez-moi du layon !
xnatp

............................................................
LE LIEU, CENTRE EN ART ACTUEL lelieu@total.net
345, rue du Pont, Québec, Québec G1K 6M4
T 418 529 9680 ? F 418 529 6933

[LE LIEU est ouvert tous les jours de 13 h à 17 h en période d¹expos
Exhibition opened 7 days 1 to 5pm]

Le Lieu est soutenu financièrement par ses membres, la Ville de Québec,
le Conseil des arts et des lettres du Québec, le Conseil des arts du
Canada.
. . . . . . . . . . . . . . . . . . . . . . . . . . . . . . . . .
[problème de réception/réception en double ; receiving problems;...,
receiving messages twice/contact : natp]....
---
Dear friends, THE NETWORK OF EVENTS MUST GO ON! by ASSOCIAZIONE PSICOGEOGRAFICA DI SALERNO
Romano Quinto
---
je suis là et ailleurs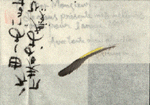 je vois la lune
je vois la terre de la lune
je vois le clair de terre
ma réalité se dissout
ma certitude m'abandonne
je suis hypnotisé et fasciné
je suis un parmi la multitude
et je me sens de plus en plus seul et fragile
mon immensité intérieure et extérieure s'entremèlent
Giovanelli to Robert

PARABOLE
"The shepherds, invisible , dwell beyond the deserts of the ravaged
earth whose sole use henceforth shall be to ensure the domination of
man (....) The complete uniformity of all the human things of the earth
under the domination of the will for will demonstrates the
meaninglessness of a human action laid down as absolute . " HEIDEGGER.

Are there "shepherds" today, those poets whose presence is still
desired, according to Höldering ,in these " times of distress"? Not
quite a poet, (although !)
Jean-Pierre Giovanelli invites us to: la suite =
---
in@mail personal mes.only
---