PRZEMYSLAW KWIEK

INTERACTIONS III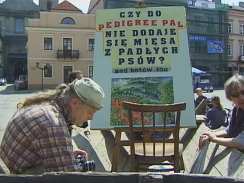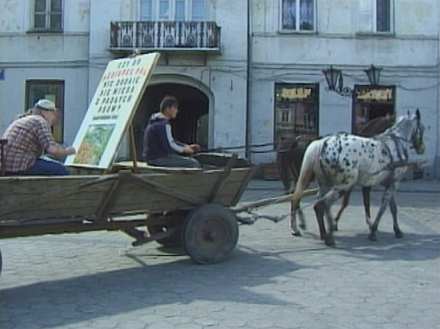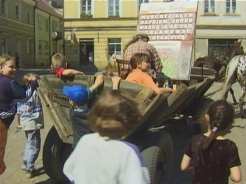 ---
Przemyslaw Kwiek: Appearance 81.
Autor siedzi w wannie pelnej wody. Probuje rzezbic w glinie-blocie leczniczym glowê osoby - polskiego typa - ktory zarabia ponad 50 000 zl miesiecznie. W koncu wrzuca rzezbe do wody i zanurza sie w rzadkim blocie.
Author is sitting in a bath full of water. He tries to sculpt a head in a clay-cure mud: polish type - a person who earns more than 50 000 zlotys a month (+- 12 000 $). In the end he puts down to the water a sculpture head. He takes a bath with a liquid mud.
L'Auteur se trouve dans la bagnoire pleine d'eau et essaye de sculpter dans l'argile une tete: un type polonais qui gagne un peu plus que 50 milles zloty (+- 12 000 $). Ensuite, il jette sa sculpture dans l'eau. Et se baigne dans la boue.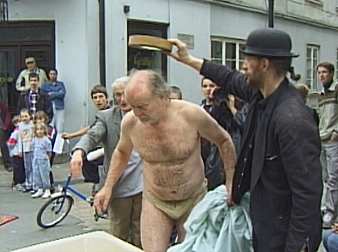 ---

*
*
*
*
*
*
*
*
*
*
*
*
*
*
*
In the prison deserted by guards

an artist is moving the word

and truths are dissolving in freedom.
Born in Warsaw in 1945. In 1953 - 1963 Przemyslaw Kwiek took private lesson in classical drawing and painting from Czeslaw and Nina Wdowiszewski and lesson of sculpture from Helena Stachurska. In 1963 - 1970 he studied with Professors Ludwika Nitsch, Josef Pakulski, Boguslaw Szwacz, Jerzy Jarnuszkiewicz and Oskar Hansen at the Department of Sculpture of the Warsaw Academy of Fine Arts, following an individual curriculum. He obtained six distinctions in the studios of lithography, drawing, sculpture and volumes and surfaces.
Since 1967 he has cultivated, and added consistency to, SOMETHING that he calls (as a process) ACTION (DZIALANIA) or, in the metasphere, a SELFCONTAINED WHOLE, in which he has relied on the continual choice method, conditioned by memory plus the external and internal circumstances, sustained by the ever new choice possibilities encountered en route.
The object here is the skilful and efficient operation of the word as such. The goal is a show of the thousands of POSSIBILITIES of both the operation and the world.
Do not search for truth in static arrangements but see (!) that there is no truth in mobile ones.
The SOMETHING he practices must be art. For, for over twenty years, has put on display parts of the process in many places of the world, including parts currently taking place plus durable and archival effects of the process, and, so far, no one has objected to calling him an ARTIST. On the contrary, many, like Joseph Beuys, wanted to have `a permanent connection` with them and `(to lead) discussion`.
In 1971 - 1988 he worked in artistic team with Zofia Kulik as the KWIEKULIK. Moving on from the study of sculpture, drawing, graphic art and the composition of space, beginning in the early 1970s they sought to concentrate on PROCESS. They described their practice as `documented, efficient, material and space ACTIONS in the definite living, artistic, political and intellectual CIRCUMSTANCES (CONDITIONS)`, they struggled for the incorporation of their ACTIONS with the ideological and administrative circulation of Polish art. At home and abroad, for they considered them an artistic manifestation on a higher, more synthetic and modern level.
The goal of their practice was in part to unveil evil and elucidated reality to others, in part to experiment, in part to work out a theory and method. Some of their ACTIONS were specially designed as a classical, unreiterated PERFORMANCE, and some of them resulted in INSTALLATIONS.
They treated ACTIONS (public and ones intended for the `eye` of the camera), their documentation (in photographs, diapositives, video and film, texts and remembering heads) and SHOWS OF STAGED DOCUMENTATION as a whole and, practicing these three forms personally and on a par with one another, they also documented what others did.
They set up at home A STUDIO OF THE ART OF DZIALANIA, DOCUMENTATION AND POPULARISATION (PSDDiU), within the framework of which they put on their own exhibitions and live multi-media shows from their vast collection, mostly to foreign audiences.
In 1975, they were `banned from representing Polish art abroad`, and their efforts to obtain any financial aid for the PSDDiU activities proved futile.
At the moment Przemyslaw Kwiek continues his former activities, using the term APPEARANCE (act of appearing; what somebody appears to be) with regard to all his expressions `intended outwards` (beginning with that at the Grodzka Gallery, Lublin 23 March 1988) whether they take on the form of ACTIONS, performances, installations, exhibitions of objects, shows of documentation, statements, or publications or are conglomerates of these; his individual APPEARANCES along with `life` events make up `works`.
He has nothing to sell, except what is not art any more; sometimes he earns (or begs) money to buy himself from himself, and as a result of thus gained personal freedom, he is able to do Dzialania, Selfcontained Whole, Appearances or even such things that even the most modern and open-minded man would never decide to call art.
He is a founder member and current president of the ASSOCIATION OF ARTISTS PRACTISING OTHER ART (SASI - membership card no. 1). He has `appeared` in Europe, the USA and Canada, and has taken part in numerous, important events at home. He devised and organized the 1-st Polish Appearance Festival held in the National Museum in Warsaw in December 1994 and the 2-nd one there in June 2001. In 1999 Jerzy Truszkowski's book appeared: 'Critical Art in Poland - Kwiek, Kulik, KwieKulik - 1967-1998', introduction by prof. Stefan Morawski, p. 208, 42 b/w, 21 color ill., Arsenal Municipal Gallery, Poznañ.
Selected presentations of KWIEKULIK - performances, exhibitions, audiovisual presentations, films and instalations:
1971 - Galeria Wspolczesna /Contemporary Gallery/, Warszawa;
- Galeria El /El Gallery/, Elblag;
1975 - Malmo Konsthall, Sweden;
1978 - Galeria Labirynt /Labyrinth Gallery/, Lublin;
1979 - De Appel, Amsterdam;
1981 - Free Internatinal University, Dusseldorf;
- Plan K, Brussels;
- Kunstlerhaus, Stuttgart;
1983 - BWA /BWA Gallery/, Lublin;
- Moltkerei Werkstatt, Cologne;
1984 - Galeria Dziekanka /Dziekanka Gallery/, Warszawa;
1985 - Dziekanka;
- Walter Phillips Gallery, Banff, Canada;
- Postmasters Gallery, New York;
1986 - Dziekanka
1987 - Franklin Furnace, New York;
- The School of the Art Institute of Chicago;
1988 - Galeria Grodzka /Grodzka Gallery/, Lublin;
PRZEMYS£AW KWIEK - Selected appearances:
Appearance 4, "Interscop", Stodo³a Gallery, Warsaw 1990 /international/. A. 5,8, "Bakunin in Dresden", Kunstmuseum Dusseldorf, Kampnagelfabrik Hamburg, 1990. A. 7, Steel bars, Center for Contemporary Art Ujazdowski Castle, Warsaw 1990 /solo/. A. 15, "Real Time - Story Telling", BWA, Sopot 1991 /international/. A. 20, 40 paintings behind steel bars, Grodzka Gallery, Lublin 1992 /solo/. A. 22-24, "Transart Communication", Nove Zamky, Bratislava, Karlove Vary 1992 /international/. A. 29, "Kopu³y...Pasa¿e...", Hotel Sztuki, £ódč 1993 /international/. A. 31, National Gallery Zachêta, Warsaw 1993. A. 39, Brow-Lipstick during "Our Women", National Museum, Warsaw 1994. A. 41, "Imaginares Hotel", symposium IGBK, Kunsthalle Elsterpark, Leipzig 1994 /international/. A. 42, 60, "Casstle of Imagination II and VI ", Bytów 1994 and 1998 /international/. A. 44, Shit in the District Labour Office during "Oikos I", District Museum, Bydgoszcz 1994. A. 46, I Wish I Retire, "AR" Gallery, Warsaw 1995 /solo/. A. 49, The Last Judgment during "Polish Performance", Baltic Gallery, Ustka 1995. A. 53, 55 Democracy of the Rabble, Ministry of Culture and Art Art II, Water-tower, Bydgoszcz 1996. A. 56, Pessimismus Tower, Media Art Biennale WRO 97, Wroc³aw /internatinal/. A. 57, "24 Hour", Fort Sztuki Association, Kraków 1997 /international/. A. 59, Vanguard Paint Lilac, ZPAP /Polish Fine Art Artists Assotiation/ Gallery, Warsaw 1998 /solo/. A. 63, The Missing Link, Arsenal Gallery, Poznañ 1999 /solo KwieKulik/. A. 69, Multimedia Art and Improvise Music Workshop, BWA Gallery, Zielona Góra 1999. A. 70, Two heads are better than one, Pierwszy Miedzynarodowy Festiwal Performance "Navinki 99"; Narodowa Galeria Sztuki, Miñsk 09.09.1999 /international/. A. 74, 75, Vanguard Trade Lilac in Lomianki, Drugi Miedzynarodowy Festiwal Sztuki Akcji "Interakcje 2000", Piotrków Trybunalski 08-12.05.2000 /international/. Banana and pomegranate - reistic theater (1986); 10 cibachrome 160 x115 cm on the exhibition "Polonia - Polonia" (100 anniversary of Zachêta), National Gallery Zachêta, W-wa 06.2000. A 78, Two Performclips and the War; International Festival for Unusual Live Performances; Culture Center Cable Factory, Helsinki 03.03.2001.