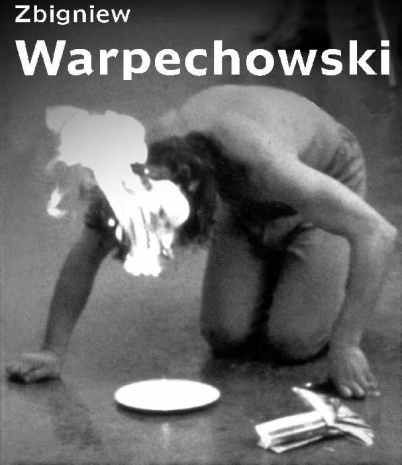 Zbigniew Warpechowski , member of the group Black Market, co-operated with Zderzak Gallery /Poland.
The dramaturgy of the shows of this vanguard artist creates concrete abjects as well as words, incantations and rhythm. Warpechowski is the radical critic of contemporary culture. The sense of mission in his works is a heritage of the main stream in Polish art, with Romanticism as the source. In 1992 the artist made the first performance in the Gallery - elegiac sign before loss of memory. The picture shows the moment in which the performer carries the body of The dead poet drown out from the mud.

Born in 1938, Volhynia, Poland
Education:
1956 - 63 Faculty Architecture, Polytechic Cracow
1964 - 65 Academy of Fine Art., Cracow
Artist life;
Since 1962 - painting, represented in the collections:
National Museum - Warszawa. Muzeum Sztuki - Lodz, Muzeum L. Wyczolkowskiego - Bydgoszcz, Regional Museum - Koszalin.
Since 1964 - Poetry
Since 1967 - Performance Art. (260 performances in 26 countries, Europ, USA, Canada, Japan, Israel.)
Since 1973 - Pholosiphical inquiries about art.
Books: "Podrecznik", published by Centre for Contemporary Art. - Warsaw 1990.
"Zasobnik", published by Slowo -Obraz/Terytoria - Gdansk, 1998
"Podnosnik"- Sandomierz 2001
"Statecznik"- (ready to print)
Performance WIZYA-18/10/97