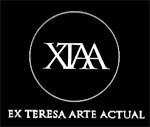 EX TERESA ARTE ACTUAL PRESENTA:
LA VIDA EN OTRO PLANETA

THE LIFE IN ANOTHER ONE PLANET

X INTERNATIONAL PERFORMANCE ART FESTIVAL 11 - 19 October 2001

CURATED BY: Karina ALVARADO
M E X I C O 2001
La observación del movimiento inducido por la fuerza de gravedad en Life is in Movement NOW EVERYWHERE de Ryszard Piegza (Polonia-Francia), o la percepción del movimiento del cuerpo de Nadia Berkani (Francia), Melanie Ríos (Guatemala) y Graham MacLeod (Canadá); así como la relación entre el tiempo y el espacio en Dimensiones paralelas de Katia Tirado (México) y Artificial Spaces de Lucia Anselmo y Roberta Cavallari (Italia), son algunas de las reflexiones de La vida en otro planeta.

Del 11 al 21 de Octubre, 2001

"Life is in movement NOW EVERYWHERE"
Richard Piegza Mexico 11 october 2001
Sound installation in movement:
Installation of the seven columns of balance, VIDEO

black and white circles are positioned at the base of each column ,

the actuation of each circle destroys the balance of the columns,

the columns fall one after the other, the movement of the circles and the columns produces a sound impregnated by the force of gravity.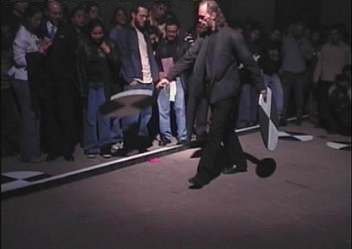 Ph:M.Madison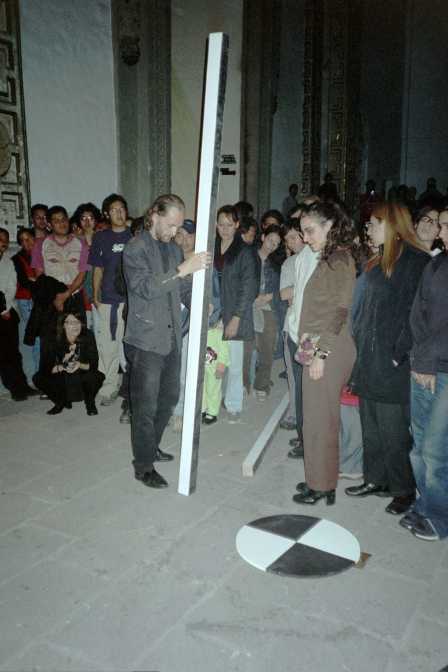 Ph:Sophie Massun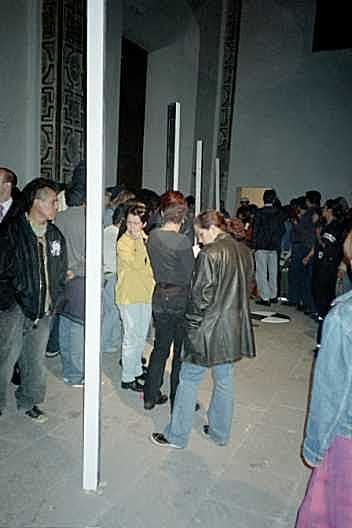 Ph:Sophie Massun.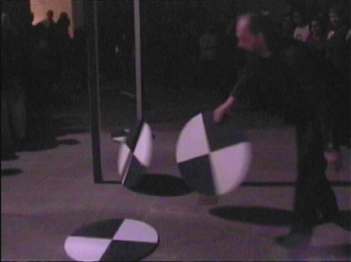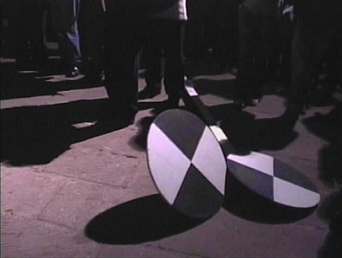 Ph:M.Madison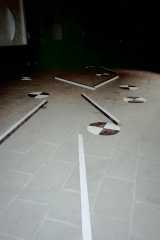 zoom+

---
EX TERESA ARTE ACTUAL 2001 PRESENTA: